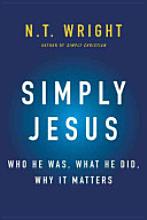 I recently read Simply Jesus by N.T. Wright. I haven't written any reviews on it or anything but I did thoroughly enjoy reading it. In fact, in many of my recent conversations I have found myself referring back to many of the things I discovered through this work. I highly recommend it to all of you and if you are interested in a review of the book from my perspective just let me know. I would be glad to provide that.
Recently
Frank Viola posted an interview
he did with Wright about this book. If you are considering the purchase of Simply Jesus you should go and check out this interview.
A little shameless promotion never hurt anyone, right?